3 Cost-Effective Ways to Increase Your Nonprofit Organization's Visibility
Visibility and public awareness are important concerns for any organization, whether they're selling cars or funding cancer research. If people are going to become your patrons, they need to know you exist. With limited promotional budgets, many nonprofit organizations struggle to gain exposure and publicity.
There are, however, some low-cost ways for nonprofits to reach wider audiences of potential donors. Learn how to partner with other organizations, have a presence at local events, and ask media outlets for support to boost your organization's visibility.
1. Partner to Reach a New Audience
You want to increase your nonprofit's visibility to get more people interested and involved, to reach people who aren't yet paying attention. A great way to do this is to introduce yourself to another organization's community.
Forging a partnership gets your work in front of a new group of people, whether it's a local company's staff, a sports team's audience, or a restaurant's patrons. For example, the Nashville Sounds, a minor league baseball team, has a Charity of the Night program. They feature an local charitable organization at every home game.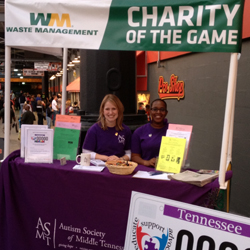 There are benefits for your partner as well. Many workplaces build morale with charity projects, and local businesses and teams love to associate themselves with respected social impact organizations.
When approaching potential partners, start the conversation with a clear idea of their audience and how to reach them. Also be aware of how the other organization's mission and practices align with your cause and values. Partnerships work best when there is a clear connection between the missions of both parties.
2. Bring Your Work to Popular Events
A restaurant or coffee shop will pay a lot more to rent a location on a busy street. The reason is simple: more traffic means more visibility. Bringing your business to where people already congregate is vital for visibility. This is why your social impact organization needs to have a strong presence at local events.
Farmer's markets, holiday celebrations, and other events that attract lots of people are prime opportunities to increase visibility. Instead of going out and trying to reach people all over your city, state, or country (who may not even be paying attention), you should bring your cause to where you know people will be.
Fortunately, public and community events are often happy to host a table for nonprofit organizations. Look at your city's schedule of upcoming events, contact the organizers, and ask what role your organization can play. If you are going to be one group among many, it's a good idea to have an eye-catching display or fun activity to attract people.
Keep-A-Breast, a breast cancer awareness and prevention organization, has had tons of success by having an ongoing presence at The Vans Warped Tour, a summer concert series that attracts lots of young music-lovers.
Their strategy also shows the importance of considering an event's audience. Because Keep-A-Breast aims to eradicate breast cancer in future generations, The Warped Tour's crowd of teens and young adults are the perfect match for their message. If there is a specific age group or population you want to reach, look for events they already attend.
3. Just Ask
The simplest way to get what you want is to ask for it. Just as with fundraising, you have to be willing to ask organizations and media outlets to shed a little light on your organization. One thing that holds many nonprofits back from reaching a wider audience is the assumption that without a large budget, you're doomed.
But just because you can't purchase a prime time commercial spot, doesn't mean television is completely out of your reach. Local news networks often cover charity campaigns and events, but you must proactively reach out to get some attention.
A local San Diego news show covers an event by the Chula Vista Charitable Foundation.
The same goes with local newspapers. If you can't interest a reporter in a story, you can ask about donated ad space.
Arranging publicity opportunities like these will become easier if you cultivate ongoing relationships with media outlets. Be sure to check in with your staff and board to see if they have any friends or family who can get your foot in the door.
If you want to be seen, you must be willing to step into the spotlight. In the absence of a big marketing budget, making connections and taking advantage of existing audiences allows nonprofits to reach more potential supporters.
Finding a good partner allows you to reach their community, and it gives them the benefit of branding themselves as charitable and involved in the community. Local events gather large numbers of people to one place, presenting a great opportunity to introduce them to your mission. Finally, asking local media outlets for coverage can be surprisingly effective. Radio, television news, and newspapers are often on the lookout for local causes to promote.
If you proactively look at the opportunities around you, your nonprofit can reach new audiences and expand your base of support.
---
Every Campaign. Every Channel. #Winning
---
Subscribe to the Classy Blog
Get the latest fundraising tips, trends, and ideas in your inbox.
Thank you for subscribing
You signed up for emails from Classy