3 Nonprofit Marketing Trends You Absolutely Need to Know
These are Major Nonprofit Marketing Trends
It's no secret that nonprofit marketing trends have shifted within the past few years. Technology has advanced, online fundraising has grown, and the way donors like to interact with nonprofits has evolved. As these changes occur, it's become increasingly important for organizations to be mindful of how supporters want to be engaged.
With that said, here's a roundup of three major nonprofit marketing trends that any savvy organization should keep an eye on.
Nonprofit Marketing Trend #1: Content
Unsurprisingly, the growth of content marketing continues to accelerate across the nonprofit sector. According to a recent Content Marketing Institute survey, 92% of nonprofit professionals are using content marketing through social media, blogging, email, and video. Of these respondents, 65% are producing more content than they were a year ago and within the next year, 38% of nonprofits – regardless of their size or mission – still plan to increase their content marketing budget.
No surprise here: this nonprofit marketing trend is here to stay, and for good reason. By some accounts, content marketing costs 62% less than traditional marketing tactics and produces about 3 times as many leads. But successful marketing is about more than simply pumping out tons of content. It comes as a result of strategic planning.
The Need for Strategy
According to the Content Marketing Institute, 52% of nonprofits that had a content strategy considered themselves to be effective at content marketing, whereas only 14% of those without a strategy considered themselves effective. To get the most out of your content, you need to develop a strategic plan for creating, distributing, and measuring material that works effectively for your unique organization. Essentially, it means knowing your audience and what it likes. (We'll touch more on this in a second.)
In the meantime, you can begin honing your content marketing strategy by:
Developing a workflow that guides and schedules your content delivery
Analyzing and creating donor personas
Mastering your storytelling abilities
Measuring content engagement on different platforms
Needless to say, there isn't one correct way to create a content strategy. You'll have to put in the effort to figure out what content and channels work for you. But taking the time to refine and manage your content organization will help you cut through the noise, reach your audience, and improve the overall effectiveness of your marketing efforts.
Your All-in-One Visual Storyteller
Although there are a number of different assets you can use in your marketing strategy, there is one medium that's definitely worth including in your content arsenal. Out of all other content formats, video is the number one tool that the most effective nonprofits use more frequently than their peers. And this finding makes sense; video is a compelling medium that enables you to tell your organization's story, demonstrate your daily work on the ground, and show how supporters can get involved. Most importantly, it helps you to create an emotional connection with your supporters that can motivate them to take action.
According to one marketing study, 90% of users said that viewing a video about the product impacted their decision process. Here at StayClassy, we've discovered that video usage also aligns with successful fundraising efforts.
After studying a number of high-performing personal fundraising pages, we found that the one consistent element across all of the pages was a compelling video. With its visual storytelling capabilities, it's not surprising to find that video can be an effective way to connect supporters to your mission.
Beyond simply adding one to your website, you can also include video in your emails to improve their click-through rates and chances of being shared. In any case, embed a call to action in your message, or even within the video, to make sure viewers know what they can do to help.
Nonprofit Marketing Trend #2: Mobile
This nonprofit marketing trend shines a light on a greater, universal truth: the shift to mobile is here, and it will continue well into the future.
With 66% of people now reading their emails on smartphones, having mobile-responsive messaging has never been more relevant or urgent for nonprofits. In fact, it's becoming an increasingly decisive factor in whether a supporter will even choose to engage with your organization.
A striking 80% of mobile users delete emails that aren't optimized for the mobile screen, and 30% will unsubscribe from the email list altogether.
The bottom line is that if you don't keep pace with this trend, you will miss opportunities to connect with your audience. So how can you capture your smartphone users' attention and keep them engaged with your mission?
Easy Does It
Your mobile device user is on the go. If they can't easily digest your email or make a donation, chances are they will move on – or worse, be deterred from trying again later. Make sure your emails and CTAs are clear, mobile-friendly, and lead easily to your landing page.
Take this email from Action Against Hunger, opened on an iPhone. Their messaging is succinct, and their CTAs are colorful, bold, and easy to read. A video is also included to continue the engagement process, increase the message's chances of being shared, and even motivate the supporter to act on the CTAs right then and there.
As the prominence of mobile browsing increases, you need to think about how your online presence is keeping step with this nonprofit marketing trend. In addition to making key parts of your site mobile-friendly, make sure your donation pages, fundraising pages, and messaging are optimized for smartphones and tablets. Streamline the conversion process to keep your supporters engaged and to improve your mobile strategy.
Nonprofit Marketing Trend #3: Personalization
While content creation has become a predominant nonprofit marketing trend, it also presents a follow-up challenge for organizations. As more and more high-quality content becomes available, supporters will become increasingly selective with the content they choose to consume. This means that nonprofits must rely on one great asset to compete for supporters' attention: personalized communication.
Like any other relationship, nonprofits can strengthen their connection with donors by effectively communicating in a way that's meaningful and personalized for them. This requires a deep understanding of your supporters and how they like to be engaged.
Fortunately, as technology has also improved, it has become cheaper and easier than ever to leverage the right resources that can help you learn more about your donors and deliver customized content to them, no matter their current engagement stage.
Track Data to Learn About Your Donors
There are a number of ways you can implement different software solutions to better understand your donors, even ones that are new to your organization. For instance, with the right fundraising software, you can simply add custom questions to your checkout page to garner more information about first-time donors, such as their interests and their reasons for giving. You can then craft separate follow-up messages that are meaningful to your supporters and show that you care.
There are also many email automation software options available, like Hubspot, that you can use to analyze donors' interactions on a broader scale and launch targeted email campaigns. And by feeding this application into a backend CRM (constituent relationship management) system like Salesforce, you can also effectively manage and track donor data in a single database. This will help you to understand supporters' giving habits, observe donor trends, and identify opportunities to solicit larger gifts. Whether you use it to track volunteer skillsets and interests, or to study the age ranges of your fundraisers, a CRM solution can give you the power to analyze donor engagement and deepen your connection to supporters.
In light of these emerging nonprofit marketing trends, it's time to think more strategically about your organization's communication methods. It will require some time, effort, and patience, but the improved results will be well worth the investment. By taking the necessary steps to understand your supporters and how they like to be engaged, you can dramatically improve engagement and more effectively carry out your mission.

---
Have an Idea for a Fundraising Campaign?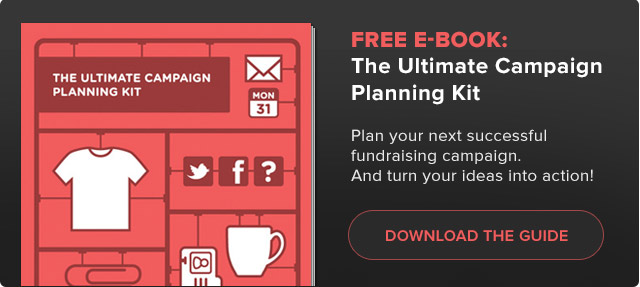 Subscribe to the Classy Blog
Get the latest fundraising tips, trends, and ideas in your inbox.
Thank you for subscribing
You signed up for emails from Classy