When you consider how to organize a 5K charity run, there are a lot of moving parts (pun intended). If you're not a runner yourself, it can be difficult to anticipate the needs of your guests and create a memorable experience.
Yet with adequate research, a strong online presence, and the right online fundraising software, you can design a day that not only wows, but breaks the shackles of geographic constraints. Indeed, a successful event will attract support from near and far, and then retain it over time.
To help you organize an incredible experience for your event registrants that strengthens their sense of belonging, we've gathered several of our most helpful resources and bucketed them all in one place.
Hit the drawing board ready with the information below.
Helpful Pre-Reading on How to Organize a 5K Charity Run
The Evolution of the Charity Run/Walk and the Road Ahead
Just as history repeats itself, the ever-popular run/walk events are here to stay. Peruse their past before you ponder their role in your organization's fundraising.
---
5 Questions to Answer Before You Host a Charity Run
Charity runs are effective fundraising events for thousands of organizations, but success isn't guaranteed. Before you start planning, consider these questions to make sure this is the right event type for you.
---
Why a Charity Run/Walk Might Be Your Most Successful Event of the Year
The psychology behind physical fundraising events is very unique. Read up on your science to best understand how to excite your participants.
---
Get Started
The Beginner's Guide to Planning a Charity Run/Walk Event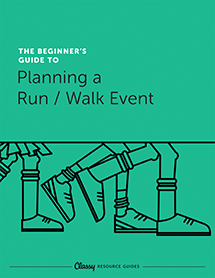 Learn how to prepare a budget, recruit sponsors, manage logistics, and more in this comprehensive planning resource.
---
The 9-Week Plan to Organizing a 5K Charity Run
Need your event to be up and running in a flash? Use this week-by-week checklist to ensure you've covered your bases.
From Couch to 5K
---
How to Set SMART Run/Walk Fundraising Goals
"Just like the runners participating in your event, the work you do ahead of time will determine your results on the big day." Learn how to write goals that will drive event success.
Start Strong, Finish Strong
---
The Right Way to Onboard and Train Volunteers
Come race day, your volunteer staff is the face of your organization. Ensure a fluid and delightful experience and take the time to equip your helpful hands.
Build a Motivation Station
---
Grow Your 5K Charity Run
How to Grow Your 5K Charity Run Event
With any event, it's easy to run it the same way every year. Read about different growth levers your organization can pull to instead reach new heights.
Break a Record
---
The Fundraising Strategy Proven to Grow an Annual 5K Charity Run
In this webinar, you'll follow a specific example that illustrates what's possible when you strategically plan for year-over-year growth.
Follow Their Steps
---
Help Your Runners Prepare for a 5K
Customizable 5K Charity Run Training Plan
This printable calendar will help your runners prepare for race day. And the better they feel and perform, the more they'll enjoy their experience. Just add your logo and you're ready to send this off to event registrants.
Get Set, Go
---
Get Creative
11 Ways to Spice Up Your Annual Turkey Trot
Turkey trots abound come holiday season. Check out how to differentiate yours from the pack and create an experience that keeps runners coming back.
Did Someone Say Pie?
---
Nitty Gritty Race Decisions and Details
How to Plan a 5K: 23 Tips From a Runner
Well-organized races can attract cult followings. Anticipate runner expectations and make sure your event wows.
Take it From a Runner
---
INFOGRAPHIC: Race Day Road Map for Charity Run/Walks
For the visually inclined, this infographic includes helpful reminders to guide you through the event-planning process.
Hit the Ground Running
---
Marketing Efforts
Event Marketing: Your 10-Week Social Media Plan
A strategic social media plan can amplify your event's success. Use this checklist to reach new audiences, keep registrants informed, and pump up your community.
Don't Miss a Beat
---
Leverage Online Registration With Fundraising
8 Ways to Generate Massive Nonprofit Event Revenue
Add revenue streams to your event's traditional cash flow with event software. From virtual participation to team competitions, here are several ways this model can broaden the scope of your event.
Dolla Dolla Bill Y'all
---
The Anatomy of a Successful Registration With Fundraising Campaign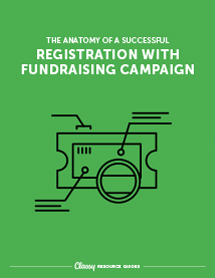 When you implement peer-to-peer fundraising into your event, you can blow the cap off your event's earning potential. Learn how to integrate and encourage fundraising as a component of your physical event.
Level Up Your Race
---
INFOGRAPHIC: The Anatomy of a Classy Events Registration with Fundraising Page
With the right software, you can design an event registration and fundraising experience that engages supporters and keeps them coming back. This example dives into the key sections of this type of online experience.
See a Campaign Example
---
At the End of the Day
12 Moments Every Nonprofit Event Planner Understands [GIFs]
Events can feel chaotic, but sometimes that's half the fun. Sit down for a good laugh and celebrate and relive the more comical moments.
Laugh it Up
Every touch point a potential donor has with your organization is an opportunity to deliver a remarkable experience. Your 5K charity run is no exception. Armed with the resources you need to make strategic decisions and creative recommendations, you can design a day that retains and attracts support year after year.
---