4 Secrets to charity: water's Marketing Success
If you work in the nonprofit sector, you've probably heard of charity: water. They are so synonymous with success that you may even be sick of hearing about them, but they, and charities like them, have become household names for a reason.
charity: water was founded by Scott Harrison, a former New York City club promoter, in 2006 and in less than a decade it has become a leader in the nonprofit sector and a fundraising powerhouse. This organization's rise to prominence offers several lessons that any nonprofit can learn from and adapt to their own situation.
From their iconic branding to their somewhat controversial "100 percent model," here are some of the strategies that have worked for charity: water.
The Brand
A clean logo that's easy to recognize is one of the first things that stands out about charity: water. Similar to Nike's swoosh and Twitter's blue bird, charity: water's yellow water can is simple, yet bold.
Furthermore, the organization integrates this imagery and color scheme across its entire brand. The water can shows up in their Twitter icon, their Facebook profile picture, and in their videos and images. It's also important to note that while charity: water provides tons of impactful photos from the field (more on that later), they maintain the yellow color scheme.
The bright color combined with minimal design helps the nonprofit to stand out while keeping a sense of efficiency and action.
Takeaway: Craft a simple, yet striking brand aesthetic. If you're consistent, it doesn't have to be flashy.
The Birthday Project
Here at Classy, we're big fans of birthday campaigns. They are a great option for any nonprofit because every single one of your donors has a birthday. Creating a birthday campaign allows them to celebrate, connect with friends and family, and support a good cause, all in one place.
charity: water has used birthday campaigns since the very beginning, when the founder launched the organization with his own birthday party. Since then, more than 62,000 people have pledged their birthdays to provide clean water to people in Africa, Asia, and Central and South America. This nonprofit pioneered the use of peer-to-peer fundraising by building their own platform for supporters and encouraging them to share their campaigns on social media.
Part of what makes The Birthday Project so successful is that charity: water makes an effort to spotlight their fundraisers in blog posts, videos, and on social media. The money raised will go to help people in need, but the fundraiser still gets to feel recognized.
Takeaway:
Peer-to-peer fundraising
empowers your supporters to own and enjoy their impact. Birthday campaigns are a way to engage people of any age.
The 100 Percent Model
The overhead problem has been a source of (often misguided) scrutiny toward the nonprofits sector. charity: water seems to have found a way to address donors' concerns regarding how much of their money goes directly to programs, but their approach is not without its critics.
charity: water is quick to tell supporters that 100 percent of public donations go to the organization's programs. This is possible because charity: water has a group of private donors and sponsors willing to cover the nonprofit's operating costs. Some opponents have argued that touting the 100 percent model only perpetuates the focus on overhead.
Whether you agree or disagree, the principle behind the success of the 100 percent model remains relevant. When donors make a gift, they want to feel like their money is going toward the cause itself as opposed to administrative costs.
Takeaway: Make the connection between donations and programming explicit. You can do this by linking donation size to a particular resource or by connecting donors and fundraisers with specific projects.
Documentation
charity: water puts a great deal of emphasis on documenting and sharing details of their work, which not only keeps their ratings high among charity watchdogs but also lets supporters get an inside look at exactly who they have helped.
Their website features a worldwide map of all their completed water projects and the organization informs donors and fundraisers of which particular projects their money supported.
They make it more personal by sending donors and fundraisers pictures of the people who will benefit from the projects.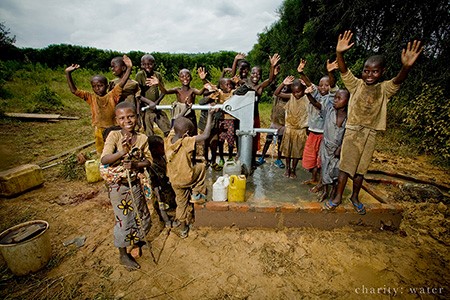 By offering these details to their supporters, charity: water makes their work tangible and motivates people to lend a hand.
Takeaway: Use pictures and case studies to tell the story of your work. Use graphics like a project map or report to strengthen the connection between the donor and the real world impact.
Every nonprofit is different, facing unique challenges and circumstances, but looking at how other organizations have succeeded is still a great way to learn and evolve. Keeping in mind your nonprofit's strengths and weaknesses, read through these actionable takeaways to see how you can adapt charity: water's strategies to your own mission.
Subscribe to the Classy Blog
Get the latest fundraising tips, trends, and ideas in your inbox.
Thank you for subscribing
You signed up for emails from Classy