6 Ways To Support Your Biggest Advocates
Reading Time:
4
minutes
The holiday season is right around the corner and there's no better time of year to spread gratitude to your biggest advocates who go above and beyond for your organization. Advocates are an extension of your business: unpaid evangelists of your brand who embody the culture, vision, and mission of your organization. While showing appreciation and support for these individuals should be a regular year-long practice in any business, the end of the year is a great time to go above and beyond.
The number one reason that donors stop supporting a nonprofit is the way they were treated treated by the organization, according to Fundraising 123. Make sure your biggest supporters know that you care. Here are six simple ways you can show your gratitude now and all throughout the year.
1. Promote Your Supporters
Whether an organization is backing you or an individual is making a recurring donation, it is important to show you are invested in their contribution. One way to do this is to promote your supporters on your website and through your social media accounts.
Have a Clear Callout
If you've formed a partnership with a large corporation, you can show your gratitude for their continued relationship by showcasing their brand on your website. Habitat for Humanity San Diego does this by having a whole page of their website dedicated to their event sponsors– prominently displaying their company logos.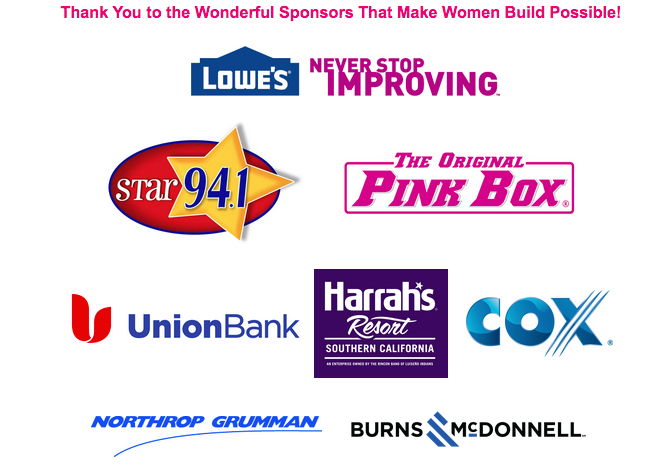 Shout-out via Social Media
A social media shout-out is perhaps the best way to publicly acknowledge your supporters.
A shout-out to an individual can make them feel appreciated and special. A corporate partner shout-out that includes their social media handle in your messaging, not only shows your gratitude to your social network but also helps get their name out to a whole new community of followers. This simple form of exposure could potentially lead to new customers for a corporate donor and give them even more of a reason to want to continue to support your organization.
2. Give Thanks
A simple thank you, though it is only two words, holds so much meaning when both given and received. Good thank yous are much more than good manners: they are a smart and savvy fundraising strategy. However your thank you must be meaningful. Instead of sending a quick, standardized email, here are some ways you can make your big supporters feel truly valued:
Write a personalized thank you card
Share recent progress
Use a more creative, personal opening in your thank you
Record a video message
Include results-oriented photography
Discuss specifics about how their donation is being used
Send a personalized postcard
Invite them to a behind-the-scenes tour of your organization
3. Stage an Appreciation Event
One great way to show your supporters you love them is to invite them to a party strictly focused on fun, without the pressure of a donation ask or a request to volunteer. Throughout the year, Classy hosts after work gatherings for our team members. Often, we invite some of our biggest supporters to join in on the fun. This sends the message that not only do we value our employees but our supporters for the contribution they collectively make to our organization. It takes many outside advocates to run an awesome company.
Every employee, every supporter makes some sacrifice to better the organization, and that sacrifice includes valuable time. Say thank you with a company outing, a party, or an after work get together that celebrates your people, your supporters, and your organization.
4. Pick Up the Phone
If your supporters aren't in the near vicinity and it would be difficult to thank them in person, pick up the phone and give them a call. Not only is a phone call more personal, it's also great for relationship building, networking, and time management. Email can feel impersonal, like the recipient is just one of 1,000 other people reading the same generic thank you message. Picking up the phone can add an extra element to an otherwise faceless exchange and help create a more personal connection.
5. Help Them
Just as you have a cause that prompts people to show support, likely your supporters have a cause you can also get behind. If your supporter is an organization, you can show them support if you:
Feature their brand on your website
Write a case study on their company
Promote your support for their product on social media
Attend one of their events
Engage in one of their webinars
Contribute a guest blog post on their blog or have them contribute to your blog
Recommend them
Leave an online review
Another powerful way to help your supporters is through word-of-mouth marketing. According to Nielsen, 84 percent of consumers say they either completely or somewhat trust recommendations from family and friends about products, making these recommendations the information source ranked highest for trustworthiness. When someone you know and trust tells you to try out a business, you are more likely to give them a chance. If you believe in your supporters' service, don't keep that information a secret. Share it with your network.
6. Personalize
Get personal with your biggest supporters and don't hesitate to do so. Personalized means:
Targeted
Specific
Relevant
Localized
Individualized
Effective
Actional
Innovative
Efficient
Instead of sending messages to big segments of your supporters, you can use the data you have within each supporter record to create custom tailored messages. These messages can be much more personal and speak directly to each individual or company about their existing relationship with your organization.
Just as your nonprofit's supporters go above and beyond for you, it's important to go above and beyond for them as well. Trusted partners can more easily align interests and will make room for future opportunities to leverage each other's value. If you build it, it will grow.
---
Turn New Donors Into Lifelong Supporters
Subscribe to the Classy Blog
Get the latest fundraising tips, trends, and ideas in your inbox.
Thank you for subscribing
You signed up for emails from Classy
The email you subscribed is