Bridging the Gap Between Your Real-World Events and Virtual Fundraisers
Reading Time:
6
minutes
Many organizations have built their fundraising foundations on real-world events that they host throughout the year…and that's all well and good. At the same time though, it's important not to forget that these events can be complemented and enhanced by adding "virtual campaigns" to the mix.
A "virtual campaign" is a fundraising initiative that takes place entirely online and allows supporters to engage with your cause from wherever they might be located. As we've discussed in previous posts, virtual fundraising campaigns tend to come in one of two major forms:
As an increasing portion of the interaction between nonprofits and their supporters moves online, it becomes important not to focus on your real-world events to the exclusion of these other opportunities. By bridging the gap between your offline and online events, you can maximize the chances that your supporters have to engage with, and support, your mission.
To give you an idea of what it looks like to strategically mix in virtual fundraisers with offline events, here are two very different nonprofit organizations that are doing just that:
1. Imerman Angels- YEAR ROUND FUNDRAISING
Imerman Angels is a Chicago based organization that pairs cancer patients with cancer survivors ("Angels") who have battled through the same diagnosis. To reinforce the vibrant community that they have created, Imerman Angels hosts several in-person fundraisers throughout the year– everything from black-tie galas, to 5ks, to happy hours and more.
While these events are incredibly successful, Imerman Angels hasn't forgotten about the supporters who aren't able to attend them. That's where their virtual campaign "What's Your Date?" comes into play.
The "What's Your Date?" campaign encourages cancer patients and survivors to share a date that's related to a cancer story that's meaningful to them. This campaign goes on throughout the entire year, and allows supporters outside the Chicago area to support the cause and tell their story in a unique way. The "What's Your Date?" campaign has already helped over 60 people tell their story while raisings funds and awareness.
Benefits of adopting a year-round fundraising campaign:
It gives supporters a vehicle for personal expression.

Events are second to none when it comes to fostering face-to-face interaction, but events are driven by the hosting organization. The host determines the venue, speakers, sequence of events etc. etc. With a year-round fundraising option, you empower your supporters to get involved on their own terms– when they want to, how they want to, and by expressing their own personal connections to the cause. Imerman Angel's "What's Your Date" campaign perfectly captures this unique expressive benefit of a rolling p2p campaign.
It creates a continuous revenue stream.

Events are seasonal in nature. Generally speaking organizations will have a few big ones throughout the year that they rely on to (among other things) bring in money. By adding a softer year-round fundraising option to the mix, you can provide a continuous stream of donations that helps with cash flow during your "down times."
It provides the perfect compliment to your inbound marketing.

If you've invested in building up a social media following, blogging, or growing your newsletter list, then year-round p2p can help you further capitalize on these assets.  A rolling p2p campaign pairs well with these interest-based marketing channels because it's passive in nature. You can present the option to start fundraising on your blog, in your newsletters, through social media etc, but unlike a traditional campaign or an event there is no timetable. You aren't pressing people to get involved now or to buy a ticket. You are just presenting another option for people to increase their involvement, and they can do so when it makes sense to them.
It expands your geographic reach.

This one is simple. You have to be close by to attend a real world event, but all you need is access to the Internet to get involved with an organization online. Year-round p2p provides an evergreen engagement opportunity for your supporters, no matter where they are located.
2. Liberty in North Korea- TIME BASED CAMPAIGNS

Liberty in North Korea (LiNK) is a Los Angeles based grass roots organization devoted to supporting human rights and humanitarian efforts in North Korea by providing aid to North Korean refugees and helping them reach freedom.
One of LiNK's most powerful means of communication is through film. Throughout the year they host viewing parties and premiers in different cities in order to build momentum and awareness for their cause. Much like Imerman Angels, LiNK has thousands of supporters all over the world that cannot attend these viewings and premiers, so they implement different time-based virtual campaigns throughout the year to expand their reach.
One such campaign they launched just this past year was called SHIFT, a purely online-based initiative which was designed to shift the public's perception of North Korea by focusing on the North Korean people and the change that is happening inside the country. The reason SHIFT was so successful (over 4,600 people created fundraising pages!) was because it gave people all over the world that supported LiNK a vehicle to create awareness and raise funds, all with the click of a mouse. Through a campaign like SHIFT, LiNK was able to reach people it simply wouldn't have been able to otherwise.
Benefits of adding time-based virtual fundraisers:
They help build community.

This point goes a long well with the general observation that online campaigns can dramatically expand your geographical reach. Because online campaigns aren't limited by physical space, you can easily reach ALL of your supporters. And since time-based online campaigns involve a common goal for the group (how much you are looking to raise, and for what) they are great for rallying your full supporter base. By uniting your full list of supporters behind shared goals and maintaining great communication throughout your campaigns, you can use them to build a sense of togetherness among otherwise geographically distributed people.
They are low overhead and high yield.

Big events (likes run/walks) can raise a ton of money if they are done right, but they also require a lot of infrastructure to pull off. That means there are serious costs baked into them. Time-based virtual fundraisers, on the other hand, can raise just as much money, but the upfront investment is minimal by comparison. While creating an opportunity for supporters and staff to interact face-to-face will always be an advantage of real world events, mixing in time based virtual fundraisers can help you raise large sums without proportionally raising costs.
They provide an excellent vehicle for new donor acquisition.

Each fundraiser you recruit into one of your time-based campaigns will raise (on average) over $560 from 7 different donors and 4 of those donors will be new to your organization. That means if you have 100 fundraisers you are looking at an average of 400 new donors. Time-based virtual fundraisers are excellent for acquisition.
The Importance of Bridging the Gap
Creating a way for local and loyal supporters to interact with you and help raise funds will always be important, but it's just as important to provide supporters who are located outside of your immediate area with different opportunities to get involved. The truth is that each different type of fundraiser (offline or online, time-based or year-round) has it's own unique attributes. It's not a zero-sum game; you can mix them together to create a more holistic, balanced, fundraising plan.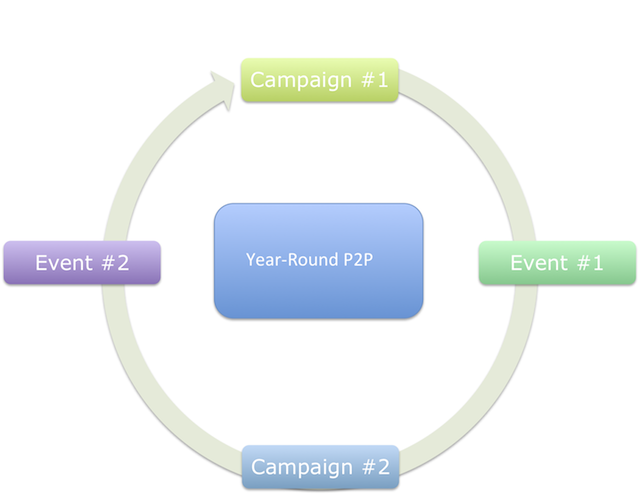 By mixing in a few time-based virtual fundraisers with your offline events and then supporting that with a year-round fundraising option you can leverage the different benefits provided by each type of fundraiser. The end result will be increased engagement among your audience and better fundraising returns throughout the year!
---
Brad Chrisakis
Client Success Team
---
Image Credit: Flickr User F H Mira
Creating a Year-Round P2P Fundraising Machine
Subscribe to the Classy Blog
Get the latest fundraising tips, trends, and ideas in your inbox.
Thank you for subscribing
You signed up for emails from Classy