By now, most nonprofits (hopefully) know the importance of equipping and educating supporters for fundraising success. Many organizations offer a variety of fundraising resources, like tips sheets, design assets for personal fundraising pages, and sample appeal emails or social media posts. However, there is one resource I've yet to see in many fundraising toolkits:
Your fundraisers themselves!
Your successful fundraisers can be the best educational resource for new supporters!
Your topnotch, seasoned fundraisers have firsthand experience running a personal campaign. Their know-how can help newer fundraisers get off the ground and motivate them. With that in mind, we've assembled a few ideas on how you can leverage seasoned supporters' insight as a fundraising resource, as well as some tips on how to approach and recruit these fundraisers.
1. Pitch a Q&A Blog Post
Many organizations spotlight individual fundraisers on their blogs and websites. It's a great way to give a public shout out to supporters, while making the feeling of others' involvement more tangible to the rest of your community.
Next time you highlight a top fundraiser, make the conversation a two-way street by having them share how they hit (or exceeded) their fundraising goals. Conduct an interview, post their answers on your blog, and share the article with other fundraisers in your community.
The approach: While you can definitely reach out to a fundraiser via email, try picking up the phone instead. How much more special would it be to receive a personal phone call from the organization you support? A simple call can go a long way in making that personal connection and demonstrating just how much you value their involvement.
Once you get a hold of your fundraiser, follow these guidelines as you make your pitch:
---
• Congratulate them on their personal fundraising campaign's success
• Thank them for all of their support and hard work
• Remind them of their impact on your organization's work and mission (what they helped you accomplish on the field, what their personal campaigns are funding, etc.)
• Express how you'd love to feature them in a blog post that shares fundraising tips and tricks with your community
• Ask if they would be interested in participating in an interview to share their firsthand fundraising experience and be featured on your blog or website
---
People are more willing to help when they believe they have something valuable to offer, so let your fundraisers know just how big of a role they have played (and continue to play) in your organization's mission. Make sure to shed light on the impact of their support in your blog post too.
Liberty in North Korea, for example, highlights the refugee rescues this supporter made possible before diving into a fundraising Q&A.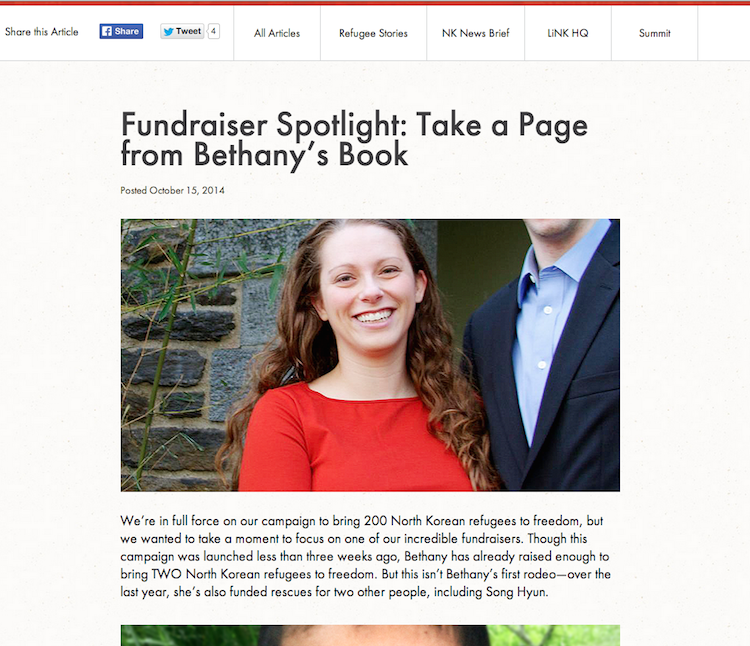 2. Pitch a Q&A Video
Or, instead of scribing the interview, try capturing it on camera. Because video is such a dynamic medium, a filmed Q&A session can really engage viewers, create a felt experience, and bring them up close and personal with your featured supporter.
You can post the video on your blog or website, or consider including it in your email updates to fundraisers or monthly e-newsletters. Not only is it a great piece of content that can encourage fellow fundraisers, but it can also motivate other supporters to start fundraising themselves. And, coincidently, a video can help improve your email's click-through rates. One marketing study found click-through rates increase 2-3 times when an email includes a video.
The approach: The cool thing about filming an interview is that it allows you to interface directly with your supporters. It's a great opportunity for you to meet, thank, and encourage your fundraiser in person, which makes the experience ultra meaningful for your supporter as well. Highlight this special opportunity when approaching your supporters for the interview.
While some nonprofits might be able to meet with fundraisers face-to-face, this option probably won't be feasible for many organizations. Fortunately, with technology like Skype and Google Hangouts you can invite your fundraiser to a live video call online and record the session.
---
How to record a Skype call: Read Here.
How to record a Google Hangout call: Read Here.
Other tips & tricks for recording a video call: Read Here.
---
And before inviting your fundraiser to the interview, make sure to send them a resource about how to prepare for the call. You can include:

• Use a high-bandwidth, wired Internet connection for the best video quality and clear audio.
• Make sure you are in a well-lit environment. You can also set up a light source behind your webcam or computer to face you.
• Answer the call in a quiet environment, and make sure nothing is blocking your microphone.
3. Conduct a Survey
Looking to interview not just one, but several fundraising champions? Turn one interview into many by sending an online survey to multiple fundraisers. Surveys are one of the easiest ways to gain insight into your supporters' thoughts, and they allow you to quickly collect responses from large groups of people.
Whip up a customized survey for your top fundraisers that asks how they achieve fundraising success. Send the survey link in an email to your segmented contact list. Then, you can compile their answers into a testimonial packet for future supporters, as "insider tips from fellow fundraisers." While your organization might already provide a fundraising tips sheet, adding this firsthand advice to the mix can enhance the feeling of a larger, involved community to new supporters.
The approach: Keep your survey short and clear, and make every question count. According to a study conducted by SurveyMonkey, a leading provider of online survey software, surveys of up to 15 questions are less likely to be completed with each additional question. So take note: adding that extra query can decrease your survey's completion rate.
To prevent people from abandoning your survey, follow these guidelines:
• Limit your survey to 3-12 questions
• Make sure your survey takes no longer than 5-10 minutes to complete
• Let people know what to expect by stating the number of questions and estimated time required upfront, either in your email or at the beginning of your survey
As for what to ask, consider including questions like:
• How do you get the word out about your campaign?
• How do you encourage people to donate to your campaign?
• What are some creative ways you've gotten people to donate to your page?
• What advice would you give to people who hit a donation lull in their campaign?
Free tools: While there are many online survey platforms out there, most offer different features based on free or paid subscription plans. As for services that provide a free option,
SurveyMonkey's free plan allows 10 questions and 100 responses per survey. I also really like Typeform, which creates dynamic surveys that can integrate visual elements into your questions. You can choose the images, color scheme, and font to create a unique survey experience for your reader.
To get a feel for what it's like, check out my sample Typeform survey:
4. Host a Fundraising Workshop
Instead of sending Q&A content to your new fundraisers, allow them to interact directly with seasoned fundraisers on their own. Consider hosting a fundraising workshop in which your longstanding fundraisers have a speaking role. This type of get-together will offer an opportunity for your community members to meet and motivate each other!
Invite experienced fundraisers to attend and share:
• How they got involved with your organization
• Their fundraising experiences and how they propelled their campaigns
• How they felt when they achieved their fundraising goals
• What first-time fundraisers can expect during their campaign
The approach: Of course, gathering all your fundraisers in one place is no easy task. There are two ways you can achieve this: 1) host an in-person event, or 2) host a digital get-together, through a Tweet Chat or Google Hangout.
The In-Person Event
This approach is probably best for organizations that have local chapters, which enables supporters to get together easier. Reach out to a chapter representative and help them organize the fundraising meet up by providing resources, topic suggestions and advice for inviting potential speakers.
The Digital Get-Together:
A Tweet Chat is a great alternative to an in-person event if you have a health social following. A real-time, scheduled conversation that takes place on Twitter, a Tweet Chat allows anyone to join simply by using the corresponding hashtag.
First, personally invite your seasoned fundraisers to participate in the Tweet Chat and share their experiences. Create a designated hashtag that will enable participants to track the conversation (check out some of these examples, #fundchat, #CLASSYEdu, #muckedup). Announce the Tweet Chat session throughout the week before, and day of, the event. Also make sure to invite new fundraisers to the event, so they can network with seasoned fundraisers and feel a part of your fundraising community.
Whether you ask them to join your onsite workshop or Tweet Chat, you can offer experienced fundraisers different incentives to participate. Consider offering perks related to your campaigns and programs, like free registration to your next fundraising event.
Conclusion
Your fundraisers drive your organization's work, and now they can power your mission even further. With experience comes wisdom, and longtime fundraisers can offer a lot of insight to new supporters. Whether you broadcast a one-on-one interview or host a large meet and greet, leverage their experience to help first-time fundraisers power through their individual campaigns!
---
Have an Idea for a Fundraising Campaign?
---
Image Credit:
Ashoka Boghani