Twitter is the New York City of social media platforms—it never sleeps and there's always something to do. It is home to the hashtag, the creator of "trending topics," and of course the platform for many infamous celebrity "Twitter feuds." What do all of these things have in common? The fact that relevant trending news constantly changes, and thus the platform's 316 million active monthly users rely on their Twitter feeds for the world's latest and greatest stories. LinkedIn and Facebook have many benefits of their own, but Twitter is the best channel to create an ongoing and direct dialogue with your audience, spread news rapidly, inform and mobilize your cause's evangelists, and prospect new supporters to expand your network's reach.
Once you've initially explored the platform, to really rock this channel and make the most of its evolving features you need to understand all it has to offer. From live tweet chats to analytic tools, this list of Twitter tips is sure to reveal new ways you can leverage this robust channel. Identify which features are the most effective for your organization's social media and marketing strategy and get started today.
1. Promote Blog Content on Twitter (and Vice Versa)
If your nonprofit is producing consistent, quality content on a blog or website then make sure to tweet out your articles on a regular basis. Your audience will come to expect posts, check back on your Twitter page regularly, and then be directed back to your website home page or blog (which should always be an end game for blog post promotion). Conversely, you can embed tweets directly into your content and drive traffic back to your Twitter page.
2. Post Other Articles, a Lot
Posting curated content from other sources in addition to your own will validate your organization as a trusted source of relevant news. When you add variety to your newsfeed, it builds trust amongst your fellow nonprofit constituents and indicates your understanding of how your organization fits into the bigger picture.
For example, consider one of Buffer's social media sharing ratios which suggests formulas for how much self-promoting content you should push out on your social channels. One popular ratio is the 5-3-2 model, which suggests for every 10 posts that you distribute 5 posts of content from others-3 pieces of content from you-2 personal status updates.
Pro tip: Keep in mind that when you add a URL link to your post it uses 23 out of your 140 characters.
3. Tweet All Sorts of Updates
Twitter is the perfect place for a quick, press bulletin style "newsflash" tweet. From major company announcements to the small details of your 5k event, keep your audience in-the-know so they stay interested in your cause. Even if you don't have an earth-shattering update at the moment, tweet about when you will have news and give a specific timeframe for when your followers can check back. Don't be afraid to post the smaller updates—on Twitter, it's always better to over communicate because there is always someone online.
4. Try a Twitter Contest
Contests create a friendly rapport with current followers and open avenues for gaining new followers who decide to participate. Raffle off tickets to your next event to users who follow your profile and retweet a certain post. You could also try to:
Ask users for comments or suggestions on your next campaign topic or title
Post a picture of branded SWAG and give it away to the top sharers
Engage followers in a 140 character "caption this" photo contest
Ask your audience to guess how much a certain campaign raised and give a prize to the closest guess
Pro Tip: Associate your contest with a unique hashtag so you can track all mentions and shares.
5. Participate in Live Tweet Chats
By definition, a tweet chat is a live Twitter discussion event, usually moderated by a certain handle and focused on a specific topic. This the most direct way to let your audience know exactly when you will be online and ready to discuss a certain subject. Host tweet chats of your own or join existing conversations like #Fundchat, an excellent account dedicated to hosting chats every other Wednesday on nonprofit fundraising, marketing, and development topics.
6. Consider Segmented Twitter Channels
If you find your organization's Twitter handle is being flooded with tweets unrelated to your posts, you may want to consider creating a secondary account. As your Twitter audience grows, you will likely see an increase in logistical inquiries. Redirect these requests to a "help handle" to create a streamlined process to answer questions, build trust, and encourage transparency.
Pro tip: Hubspot does an excellent job of processing requests to their support handle and then promptly answering. They sign off each tweet with the name of the staff member who helped, creating a personalized help experience.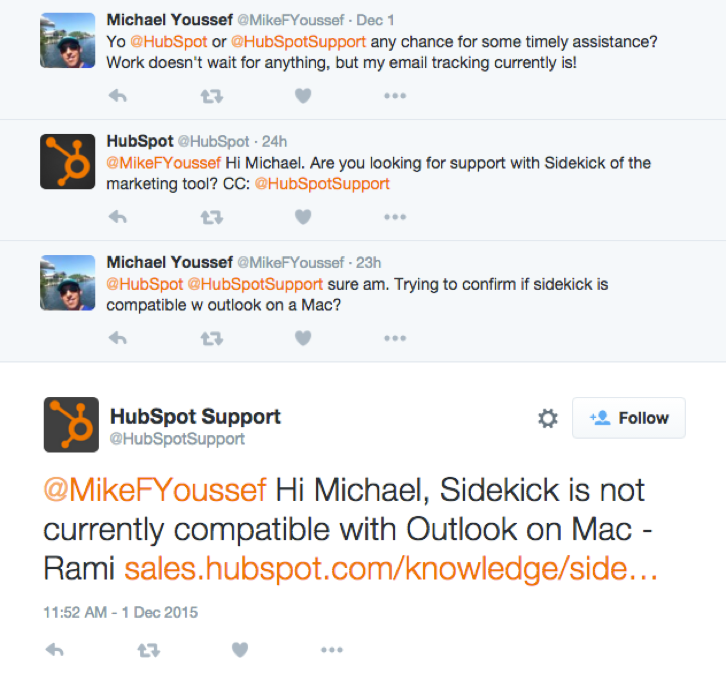 7. New! Twitter Polls
Twitter polls are a recent addition and an exciting way to engage your audience by asking a question and polling your followers for answers. Ask for ideas on fundraising campaigns, get feedback from your last event, or even use the poll for some light-hearted non-business engagement.
Here are the logistics:
Your tweet text has a 116 character limit
You are allowed up to four choices for poll answers
Each poll answer has a 20 character limit
The voting aspect of the tweet can last anywhere from five minutes to one week
Votes from participants are anonymous
8. Mute Your Followers if You Want to De-Clutter Your Feed
"Following" your followers back is a tried-and-true method for keeping track of your supporter demographic and making them feel special, but this can also clutter your home newsfeed with a slew of random tweets. Twitter's mute feature allows you to remove any follower's tweets from appearing in your home feed without unfollowing or blocking their account. This enables you to streamline the content you want to see in your feed and still follow any supporter you want.
9. Connect All of Your Social Channels
Drive traffic to all of your social channels by making use of the ways they connect. Instagram, Facebook, and Vine all make it easy to link your Twitter account and directly post to Twitter from their applications. Keep in mind that if the post is not originally created on Twitter the text will cut off after 140 characters and photos may appear distorted.
Pro tip: Embed social sharing icons on your nonprofit's website so users know which channels to expect your engagement on.
10. Show Yourself Off Visually With Branded Content
These days, millennials operate on a "pics or it didn't happen" mindset, which means they want visual evidence for proof of any event. Publicizing your brand with photos and graphics can boost engagement on a tweet by 47 percent according to data from Socialbakers. Images evoke a strong visceral connection for viewers and capture attention in a way text alone cannot.
Here are a few things to keep in mind:
Add your logo to original work for copyright and branding purposes
Always give photo credit to the source
1024 x 512 pixels are the optimal dimensions
Uploading anywhere from one to four photos only takes up 24 characters total
In this example, you'll notice the organization's logo in the lower right corner ensures they maintain ownership of this image.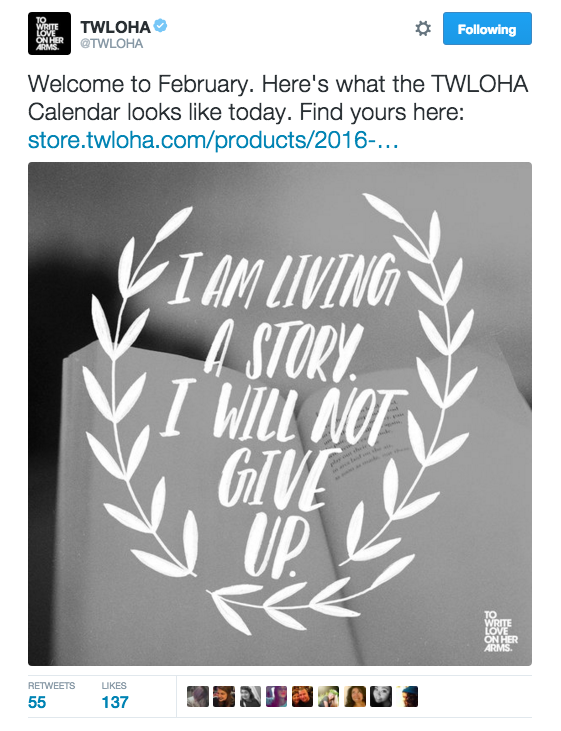 11. The Best Content = Stats, Lists, How-To's, and Quotes
Certain types of posts perform better than others. Tweets with numbers or statistics, such as campaign results or YOY growth, are both digestible and attention-grabbing. Posts introducing a list or a "how-to" received three times as many retweets than other text-based content in a study by social media maven and Crazy Egg founder, Neil Patel. This study also found that quotes outperformed questions by 847 percent.
Pro tip: Remember, tweets containing personal details, opinions, feelings, or moods are not appropriate for your nonprofit's handle. Write social media guidelines to help direct your staff on what is and is not acceptable to post.
12. Segment Followers Into Twitter Lists
Twitter lists help you categorize your followers into specific groups for your own organizational purposes. Build your own lists or subscribe to lists created by others. When you click on a list, you will see a normal Twitter newsfeed but full of only content posted from those added to that specific list. Segment your followers into your staff, donors, board members, nonprofits in your sector, or companies you admire.
Pro Tip: You can create both public and private lists, but be aware that accounts receive a notification when you've added you add them to a public list and public lists are accessible to any Twitter user.
13. Make Posts Consistent
Missing even one day of posts and notifications in the Twitter world can mean losing out on thousands of potential impressions and clicks. Consistent posts give your audience a sense they can depend on your engagement and a reason to frequently visit your page.
Camp Kesem encourages its collegiate chapters to post consistently with the hashtag #WhyIKesem to explain why all of their young volunteers dedicate their time and energy to the cause.
14. Consider Shortening Your Links
Shortening your URL links can provide multiple benefits. Free shortening services like Bitly not only physically truncate a long, visually distracting URL but also allow you to track how many clicks your link receives through back-end analytics. Track which types of content your users click the most to help understand what is relevant to your audience. Tweets with these short URLs look clean and clickable.
Pro tip: Shortened or not, a link always takes up 23 of your 140 characters.
A very subtle, but important, part of ensuring your tweets are seen by all of your followers is the way Twitter manages username mentions. If you @tag a user at the very beginning of a tweet or reply directly to a tweet, be aware that Twitter considers this a "direct tweet." This means that the post will only be viewable to the user you tagged and anyone who checks the "tweets & replies" section of your profile. It will not appear on your page's main feed. To have your post featured in your main profile feed and all of your followers' main newsfeeds, add a character before the @ handle tag; most people use a period, for example.
In this post, Pencils of Promise used a period before the @ symbol in "@funforlouis" in order to ensure the post was viewable to all of their followers and landed in their main profile feed.

This post by Hope For The Day was a direct reply, only viewable to @StrifeMagazine but could also be found in the "tweets & replies" section of Hope For The Day's profile.

16. The Era Of Emojis 😀 😎 😆
Since April 2014, emoji characters have increasingly made their way into tweets. A study from Cotap Inc. found 76 percent of Americans have used emojis in digital communications at their workplace. Emojis only take up one character each like any other symbol and add a colorful yet practical way to grab attention and convey emotion in the short space of a tweet.
17. Know Your Jargon and Twitter Etiquette
Twitter is the one social media platform that has a separate acronym language members are expected to know and use. These acronyms save characters and show who's up-to-date with the latest Twitter "slanguage."
Remember these popular acronyms to save space:
RT = Retweet, use when you re-post someone's exact tweet
MT = Modified tweet; use when you paraphrase a tweet written by someone else
DM = Direct message; use in reference to a direct, private message thread
DYK = Did you know
ICYMI = In case you missed it
While it's important to speak the lingo well, you should also be conscious of the proper etiquette surrounding your interactions in the Twitterverse.
To be courteous and delight your following:
Favorite all mentions of your handle
Retweet compelling messages or influential followers that mention your handle
@ tag and give credit to sources for articles you post that are not your own
Thank users when they begin following you (learn how do so automatically)
Respond in a timely manner to users who tweet directly at your organization
18. Save Time Scheduling, Spend Time Interacting
A good social media rule of thumb is to spend at least six hours per week, or around one hour per day, engaging with your followers, according to Social Media Today. In order to carve out this time, consider investing in a social media management system (SSM). These tools allow you to schedule content ahead of time. You can create posts that publish anywhere from minutes later to months down the line. With an SMM you won't have to constantly post tweets in the moment, and you'll be more free to interact with your audience.
19. Stay In-The-Know With Twitter Alerts
Twitter Alerts are an extremely handy service for keeping abreast of public agencies or emergency organizations during times of crisis. Choose the alerts you want to receive from more than 100 pre-selected influential organizations across the world,  21 of which are nonprofit-specific. These special alerts kinds of alerts are indicated with an orange bell next to the tweet itself. Official "Twitter Alert" accounts have the below message on the home page of their profile:
20. Twitter Ads
Depending on your marketing budget, you can pay for your tweets to be featured in more newsfeeds than just your followers. Currently Twitter offers three types of promoted content: Promoted Tweets, Promoted Accounts, and Promoted Trends. Twitter Analytics allows you to track your budget, amount of money spent, clicks, and other metrics to measure your ROI on promoted content. Promoted tweets increase the number of people who see your message, opening the door to more clicks, followers, and interactions that will grow your audience.
Pro tip: Make sure a promoted tweet always has a CTA (call to action) encouraging readers to either click a link, donate, or directly engage with the content in some way.
21. Search for Yourself
It's not narcissistic, it's smart. Unless a tweet contains your handle exactly as it appears, like @Classy, then you won't get a notification. Search the name of your nonprofit without the @ symbol, your handle with a hashtag in front of it (i.e. #Classy), your website URL, or any unique hashtags you've crafted specifically for your nonprofit. Twitter allows you to save up to 25 search phrases that auto-populate in a drop down menu when you click the search bar; use this to keep track of any important conversations involving your organization.
22. Direct Message
Twitter's direct message feature allows for private correspondence with anyone who follows you, which comes in handy when a conversation becomes too sensitive for the public eye or contains personal information. In these scenarios, be ready to politely ask the person to begin a direct message so you can personally resolve the issue away from the eyes of the rest of your followers. Use your own discretion as to which conversations should be made private; here are a few hypothetical situations in which you may want to employ the DM approach:
A dissatisfied volunteer or donor tweets a bad review or angry message about your nonprofit, programs, event, etc.
A follower tweets that they wish to be given the personal email and phone number of a staff member of yours
A key fundraiser or sponsor for your nonprofit tweets asking about how much your event or campaign raised but you have not yet released the data to the public
23. Hashtags: Use 'Em Fewer and Smarter
Make sure to research relevant and timely hashtags first before you post; think #GivingTuesday or #BCAM for Breast Cancer Awareness Month.
Do: create your own hashtag for your nonprofit and/or campaign.
Don't: only post it once or twice; make sure to use it a lot. The more longevity a hashtag has beyond one event or campaign, the better.
Pro tip: Tweets with more than two hashtags actually can drop in engagement by almost 20 percent according to Linchpin SEO. Make sure the hashtags you select are specific and relevant to your organization.
24. Twitter Analytics
Twitter Analytics offers a wealth of knowledge about your account activity if you take the time to make note of important statistics. The "Tweets" tab shows how each post performs with impressions (how many people see your post), engagement (how many people click or interact with your post), and engagement rate (engagement divided by impressions). Export any relevant data you want into spreadsheets and track which type of posts or content topics have the most success.
The "Audiences" tab provides metrics on your followers' interests, languages, lifestyle preferences, and consumer behaviors so you can tailor your content accordingly. Hubspot provides a helpful list of essential insights you should take advantage of on Twitter Analytics.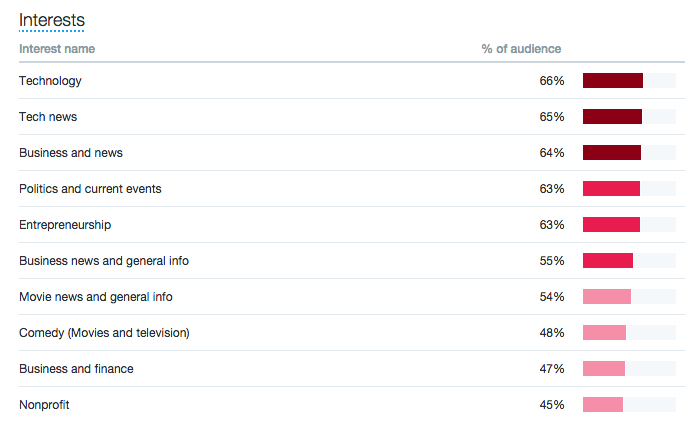 Pro Tip: To find Twitter Analytics, begin on your Home page, then click your small square profile photo in the upper right-hand corner. Then click "Analytics" from the drop-down menu.
25. Get Your App On
Download both the Twitter mobile and computer desktop apps for the best Twitter experience. The phone app is great for on-the-go access when you're out of the office and will keep you from going radio silent on the weekends. The desktop app keeps your Twitter feed open outside of your web browser, so it won't ever get lost among the rest of your windows and tabs.
Pro tip: Turn on push notifications for either app if you want to track engagement in real time. This allows you to respond to activity in the moment.
Twitter, by nature, is extremely fast paced but in many respects, that's the beauty of it. While you can't expect to be online every waking moment, you can select which Twitter tips work the best for your organization and leverage them in ways that create greater buzz around your cause and help steward your followers into supporters and donors. If Twitter really is the New York City of social media, then consider this list your official subway pass to navigate the various "boroughs and neighborhoods" of this vibrant platform. Happy exploring!
Have an awesome Twitter tip we missed? Tweet us @Classy!
---
Master Twitter and every other channel.
---
Photo credit: StartBloggingOnline.com