Looking for fundraising ideas for your nonprofit? You're not alone. Organizations of all stripes are constantly on the lookout for creative, new, and successful fundraising ideas.
Part of what makes this search difficult is that a "good" fundraising idea for one nonprofit doesn't necessarily translate into a good fundraising idea for another nonprofit. It really depends upon your organization's unique circumstances, goals, and identity.
There is one fundraising idea, however, that has proven successful for a wide variety of nonprofits. Best of all, this approach can easily be tailored to your nonprofit's unique branding and mission.
A Top Notch Fundraising Idea for Every Nonprofit
So what is this fundraising idea that's proven itself so useful to different types of nonprofits? It's called peer-to-peer fundraising. If you've never heard of it, the basics are pretty simple.
In a peer-to-peer fundraising campaign, a nonprofit gets supporters to create personal fundraising pages and share those pages through email, Facebook, and Twitter. Friends and family members make donations through supporters' individual fundraising pages and the proceeds benefit the nonprofit. Often times the fundraising is associated with a real world event, like a race or a walk, but it doesn't have to be. And that's it really. That's peer-to-peer fundraising. Pretty simple right?
So why have peer-to-peer campaigns become one of the top fundraising ideas for nonprofits?
They are low cost and bring the potential of high returns
They require minimal staffing and resources unlike special events
They allow you to reach far more people by tapping into existing supporters' social networks
They make it easier to acquire new donors because friends do the asking
They're simple to personalize to your nonprofit's brand and mission
Well those are some of the reasons anyways. Another nice thing about this particular fundraising idea is that it's easy to grow with over time. Since there's minimal or no upfront investment, there's no pressure to bring in huge results right off the bat. Of course, it's nice when that happens, but it's not always possible.
With peer-to-peer fundraising you are free to get your feet wet, raise a few thousand dollars in your first year, and then refine and grow from there. This flexibility is precisely why it's become such an appealing fundraising idea for nonprofits of different sizes.
For more fundraising inspiration, check out our other fundraising ideas for nonprofits.
Have a Fundraising Idea for Your Nonprofit?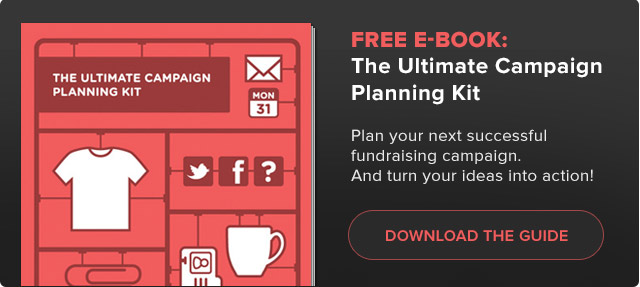 ---
Image from Flickr user
sputnik_mania