You Have More Supporters Than You Think – Here's How to Reach Them
Reading Time:
5
minutes
Peer-to-peer fundraising is powerful because it enables you to tap your network's networks. By mobilizing your supporters to do the asking, you are able to reach exponentially more people and raise more money. And the more people get behind your campaign, the more successful your campaign will be.
As a fundraiser then, one of your first steps would be to recruit as many preexisting supporters as possible. The last thing you'd want to do is disregard potential donors, or entire networks of donors, and leave donations and support on the table.
But sometimes, you might just not be aware that you are missing out.
In this blog, we'll discuss a couple of your existing (but unexpected) networks, and how you can leverage them to the fullest.
Your Network is Larger Than You'd Expect
When setting out on their campaigns, most fundraisers think of a few groups they can reach out to: family and friends, colleagues, and friends on social media. However, research has found that you tend to have many more social circle than just those few.
In 2002, Christopher McCarty, a social network researcher at the University of Florida, studied the personal networks of 46 people. He asked each person to create a list of the people they knew and how they knew them.
Most respondents identified "family" (including friends) and "coworkers" as close networks. Naturally, these are also the people fundraisers usually reach out to first.
But the survey uncovered other social clusters many people also identify with. These more unexpected groups included people who:

• Went to school together
• Are childhood friends
• Friends of friends
• Have a similar religious affiliation
• Are in a club or interest group
• Share the same hobby

It seems natural that we belong to groups other than friends, family and coworkers. But what happens when you look at these social circles from a fundraising perspective?
Understanding where else we find close knit groups of people means you can better identify already segmented networks to reach out to during a fundraising campaign.
For instance, those previous clusters can translate into some of the following networks:

• Your alumni network
• Your national sorority/fraternity
• Sports league
• Yoga studio
• Parent / Teacher Association

If you belong to any of these network types, you've just discovered a new batch of potential supporters for your fundraising campaign. The best part is that you were connected with them all along! And, because you identify with them through some shared interest, you'll likely uncover other common ground that could include your cause.
1. Contact the Influencer
Most likely, you'll be able to get in touch with the core influencer of a particular cluster – the head instructor at your yoga studio or a fraternity's national president, for example. Although we've identified some groups you could reach out to on your own, leveraging the influencer within that network will give you access to a much broader list of contacts.
Let's consider your alumni network. You might think about sending email appeals to other members of your graduating class. However, chances are that your school's support network extends far beyond just your year or region. Magnify your reach by leveraging alumni club coordinators within the network, who each have access to all other alumnus' emails in their respective regions around the world. Ask them to share your fundraising campaign to their list of contacts.
Scott Tousley, a San Diego resident, raised $8,000 for childhood cancer in 24 hours by leveraging his Michigan State University alumni network. He reached out to the alumni coordinators of a long list of cities, including Detroit, Chicago, Los Angeles, and San Francisco with a thoughtful email explaining his cause. To his surprise and delight, alumni coordinators were very willing to send his campaign to their networks.
Most universities have a way to look up alumni chapters across the country. Take this other example from UC San Diego (Go Tritons!) If you targeted these clubs' coordinators and asked them to spread the word about your campaign, you'd have the chance to tap fifteen different alumni networks across the nation..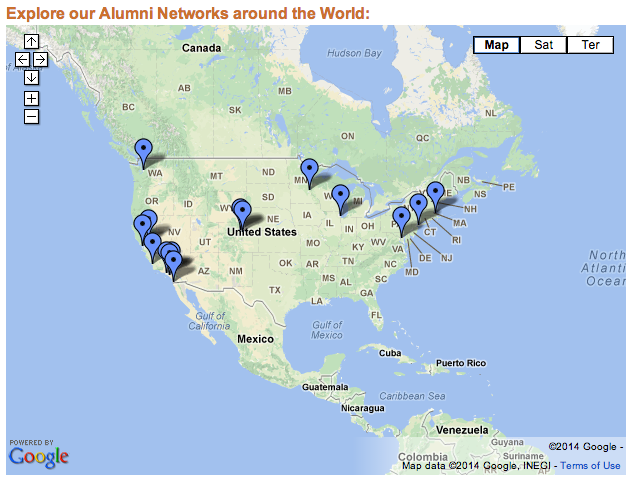 The same idea applies to sororities, fraternities and the vast number of other university clubs, many of which are national organizations with many chapters. Your cause might even be affiliated or related to the subject of those organizations. Don't hesitate to contact advisors or coordinators of chapters; they'll probably be excited to hear from you!
In another example, your unexpected groups might include social interest group, athletic club or intermural sports team. You can ask your group coordinator or instructor to spread the word about your campaign to other sessions or classes. Barbells for Boobs is founded on the premise of using these kinds of unexpected networks for an awesome cause. The organization leverages CrossFit gyms across the country, and the communities within them, to raise money for breast cancer.
Not only can an influencer share your message with hundreds of other people, but they are likely to have already established trust between themselves and those who you're interested in being part of your campaign. As we've written before, trust is a huge part of garnering support for a cause and is one of the most important components in the supporter-NPO relationship. So, leveraging an influencer's network can definitely be recipe for donor acquisition success!
2. Personalize Your Connection
What should you say to move these leaders to action? As always, effective communication is the key to building any
relationship. This means the way you communicate with these influencers should be shaped by the personal history you have with them.
Incidentally, many of these networks – alumni clubs and sororities/fraternities, especially – are built on the deep tenets of community and lasting membership. By evoking the personal connection you share with these leaders and networks, you can use your shared sense of identity to stir their commitment to help spread the word about your campaign.
For example, consider this sentence:
"As a leader and fellow Triton, I am asking for your help to spread the word about this campaign."
The phrase "fellow Triton" draws a direct connection between you and the influencer. And, more importantly, it calls on the camaraderie established between members of this network.
Use language that also links your appeal to the recipient's sense of self. In this case, "as a leader" elevates the importance of the reader and draws on their inclination to help the group member they lead, instruct, support or organize.
3. Final Tips
Here are a few ways to fine-tune your request before you hit the send button:
1. Be concise – According to Marketing Sherpa, the average email reader spends only 15-20 seconds on each email they open. Make sure your email is direct and concise. Make sure to link your website and social networks so they can find out more about your cause.
2. Clarify your calls to action – Your calls to action should be straightforward and direct. Clearly ask readers to share your page with their networks, and make sure the link to your campaign page is clear and easy to find in the email.
3. Spend time on the subject line – 35% of people open emails based on their subject lines. Craft a subject line tailored to the coordinator and the network you're contacting. As it stands, emails with personalized subject lines are 22.2% likelier to be opened.
Peer-to-peer fundraising is all about relying on your supporters to ask their networks for donations. The first step to major success, then, is to maximize the number of people vouching for you on the ground. Branch out to all of your existing networks, (even the ones you didn't expect), leverage influencers within these social circles, and discover cohorts of people willing to support your cause!
---
Image Credit: Ian Ransley
The Pocket Guide to Fundraising Psychology
Subscribe to the Classy Blog
Get the latest fundraising tips, trends, and ideas in your inbox.
Thank you for subscribing
You signed up for emails from Classy