"Help! I need some awesome last-minute gift ideas!"
We know the last-minute holiday gift panic all too well. So we're here to help.
The holidays are huge for nonprofit fundraising and one of the most popular models is to promote a gift catalog. Not only is this a great way to engage your supporters, but it's also fun and allows them to introduce loved ones to your organization.
We're killing two birds with one stone here – find inspiration for your next holiday fundraising catalog and cross off some last-minute – and very meaningful – gifts off your shopping list! Here are some of our favorite holiday gift catalogs from nonprofits – these awesome last-minute gift ideas will wow their recipients and make inroads to changing the world! We've got all your need-to-know details right here and a cool gift option from each catalog.
We'll start with organizations from whom you can buy merchandise to donate and then we'll check out some of the great last-minute holiday gifts that allow you to directly purchase an item or service needed for impact.
Tip: If you purchase symbolic gifts or gifts in someone's honor, there's no need to worry about shipping!
Last-Minute Gift Ideas to Unwrap
FEED is a social business with an affiliated nonprofit foundation that fights hunger and malnutrition. Their rustic design and artisan fabrics have become well-known due to partnerships with corporations like Target.
While their signature tote bags come in many different colors and styles, they also offer wine bags, jewelry, greeting cards, ornaments, stockings, t-shirts, and home goods.
Prices: Starting at $5, many products under $50
Shipping: 2-6 business days
FEED sells this great Christmas tree ornament. Simple but attractive, the number 5 refers to the number of meals it provides.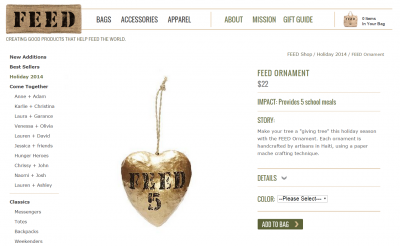 Buy Now
---
Liberty in North Korea offers a ton of last minute gift ideas in their great online store, where you can get some pretty nifty presents and support their work to liberate and support the people of North Korea.
Prices: Starting at $5, lots of gifts (including t-shirts) under $20
Shipping: Usually within 7 business days
LiNK's documentary, The People's Crisis. You can support the organization, give a present to a loved one, and inform people about the cause, all for $15.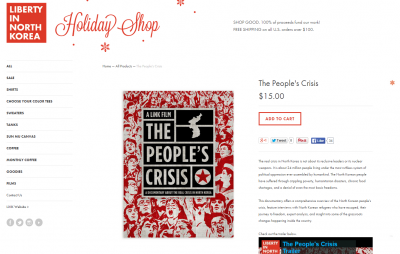 Buy Now
---

UNICEF, one of the world's largest international organizations, seeks to protect the world's most vulnerable children from hunger, disease, natural disasters, and other threats. And they have a HUGE online catalog to go with it.
With dozens of choices, including home goods, Christmas ornaments, scarves, key chains, accessories, handbags, toys, coffee mugs, and jewelry, this is a great place to find the perfect last minute gift idea and do some good.
Prices: Starting at $5.99 with tons of options above and below $20
Shipping: Within 10 business days for in-stock items, 2-day shipping and gift shipping available
This eye-catching Christmas stocking is made in Nepal. Stuff it with treats!
Buy Now
---
National Wildlife Federation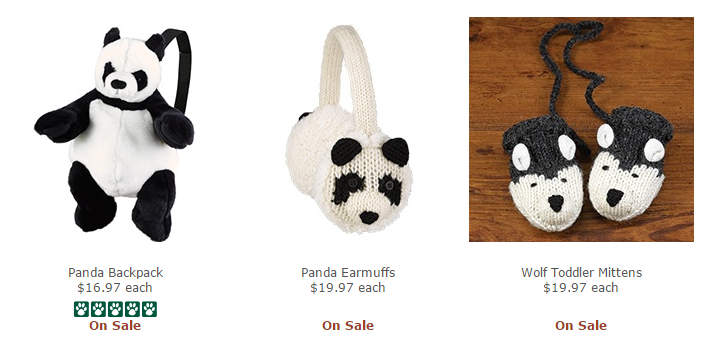 This is a great catalog of last minute gift ideas for the animal-lovers on your list. The National Wildlife Federation protects wildlife and their habitats, along with cultivating the next generation of conservationists.
They have a full catalog and even list deadlines for Christmas delivery. You can buy gifts, make a donation, or symbolically adopt an animal in honor of your friends and family. Just a few of the options are coffee mugs, a variety of Christmas tree ornaments, greeting cards, throw blankets, sweatshirts, hats, and lots of toys and other gifts for kids.
Prices: Starting at $6.99
Shipping: It may be too late for standard shipping to arrive by December 25th, but they also offer 2-day and overnight delivery.
This wildlife organization incorporates the animals they protect into their holiday gifts. They have lots of different ornaments representing different bird species.
Buy Now
---
The Adventure Project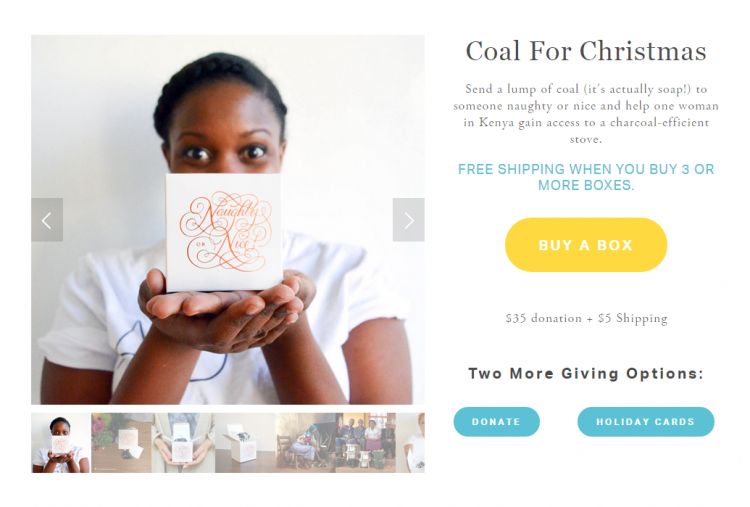 The Adventure Project doesn't really offer a catalog of gifts, but the gift they do offer is so clever and impactful that we had to include it. Is there anyone on your Christmas list that you would rather just send a lump of coal?
The Adventure Project's Coal for Christmas campaign gives you the chance. Don't worry, it's actually soap, it just looks like coal. But the gift's impact is what puts it on the "Nice" list. The $35 donation provides a woman in Kenya with a charcoal-efficient stove, which reduces toxic smoke and its health risks.
Prices: $35 for the box of "coal"
Shipping: Order by December 19th (that's today!) for Christmas Delivery
Buy Now
---
To Write Love on Her Arms
To Write Love on Her Arms fundraises year-round with their awesome t-shirts and other merchandise. Many of their products reflect their mission to provide hope and support for people struggling with addiction and depression. Check out their online store for clothing, accessories, calendars, greeting cards, and more.
Prices: $5 and up
Shipping: Standard shipping options
Buy Now
---
Last Minute Gift Ideas – No Shipping Needed!
Heifer International
Heifer International's catalog is basically a menagerie of last minute gift ideas. In order to fight poverty and hunger, they allow donors to purchase livestock and other animals for struggling families. These resources help families not only feed themselves but become entrepreneurs by selling milk, eggs, and other goods.
They have a wide range of gift options, with something for any budget. Check out their site to see cows, goats, water buffalo, llama, sheep, pigs, ducks, fish, rabbits, honeybees, and chicks.
Prices: You can share in the buying of a Sheep for $10 or go all the way and donate a whole water buffalo!
For the cost of a seeing a movie, you can help a family struggling with poverty or hunger. $20 buys a flock of ducks.
Buy Now
---
Many Hopes

Many Hopes builds homes and schools for children in Kenya, where they support local businesses and seek to grow economic health. This holiday season, you can help by buying a mattress, bedframe, bricks, or other materials.
Many Hopes does an especially good job of using Classy's ecards feature by offering different cards showing what was bought in the recipient's honor. They are also hosting a holiday auction with autographed sports memorabilia, restaurant dinners, clothing, and accessories.
Prices: Starting at $16 for bricks to build a school or home.
Mosquito nets are a simple, life-saving tool for people at risk for Malaria and other diseases.
Buy Now
---
Oxfam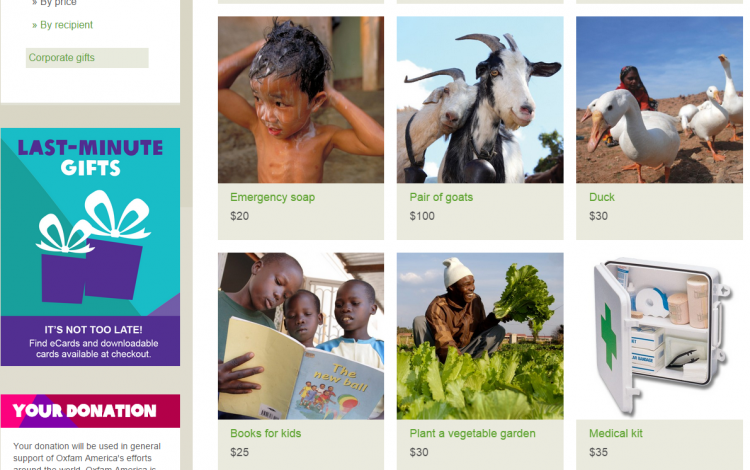 Another international organization, Oxfam fights poverty, hunger, and injustice worldwide. They also have a wide variety of goods you can purchase to help, such as ducks, goats, soap, books, medical kits, water pump, school supplies, chickens, mosquito nets, honey bees, pigs, chicks, and vegetable garden supplies. You can help a variety of causes and never leave their site.
Prices: Starting at $15, with many options under $50
For $50 you can a buy a pig. Livestock can help lift people out of poverty by offering continued income. And you get to send your loved one an adorable card.
Buy Now
---
Mercy Corps
Mercy Corps steps in when disaster strikes. After natural disasters, violent conflicts, and other emergencies, they work to meet people's most urgent needs, like food and shelter.
One thing that sets Mercy Corps' online store apart is that they offer a handy tool to suggest a gift. All you have to do is fill in what your relationship is (son, mother, friend) and any special interest of theirs (health, education) and the tool will pull up some gifts that would be appropriate.
Some of the gift options are donkey, bicycle, chickens, seeds, soccer ball, toilet, school supplies, sheep, start-up loan, and camel. You can also donate to feed a child or build a well.
Prices: Starting at $18, with many gifts under $50
One of the impact gifts you can choose is to fund a woman learning to read. This gives her and her children a better chance at prosperity.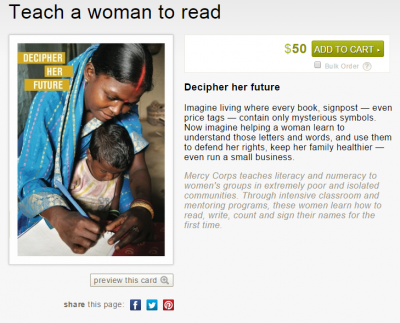 Buy Now
---
Food for the Poor
This long-standing aid organization works to serve people in Latin America and the Caribbean who are struggling with hunger and poverty. They also supply the option to purchase immediately needed supplies or invest in long-term tools.
Food for the Poor offers a ton of ecards that you can send to loved ones or print out. Whether you donate a soccer ball, food, a fruit tree, or farming tools, you can find a card designed for this gift.
Prices: Starting at $10
To help someone learning a trade, you can buy this 15-piece set of tools, allowing them to work and earn an income.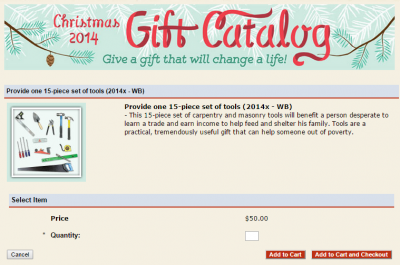 Buy Now
---
We hope these examples are helpful to you, either in deciding what to get someone as a last-minute holiday gift idea or how to create a catalog for your nonprofit!
Have a holiday catalog of your own? There are too many great ones out there to get them all on this list, but please let us know in the comments section! Happy Holidays!
Read Next: How to Promote Your Holiday Fundraising Catalog