How Classy Manager Supports Online Fundraising
Reading Time:
3
minutes
You want to be extra rigorous about making the best possible thing you can. Find everything that's wrong with it and fix it. Seek negative feedback, particularly from friends.
This quote by Elon Musk embodies the perseverance, intelligence, and innovative spirit necessary for start-up companies and nonprofit organizations alike. Whether you are entering uncharted territory in the tech world or tackling humanity's greatest challenges, the message rings true. Since Classy is a late-stage start-up in the nonprofit industry, our team internalizes this message and strives to continuously improve the product and experience we offer our clients—which is why we're proud to announce the recently released Classy Manager.
Classy Manager is a redesigned, more robust back-end administrative interface focused on improving user experience at the organizational level. Below, we dive into what it is, how we approached this update, and the opportunities this opens up for our clients.
What Is Classy Manager?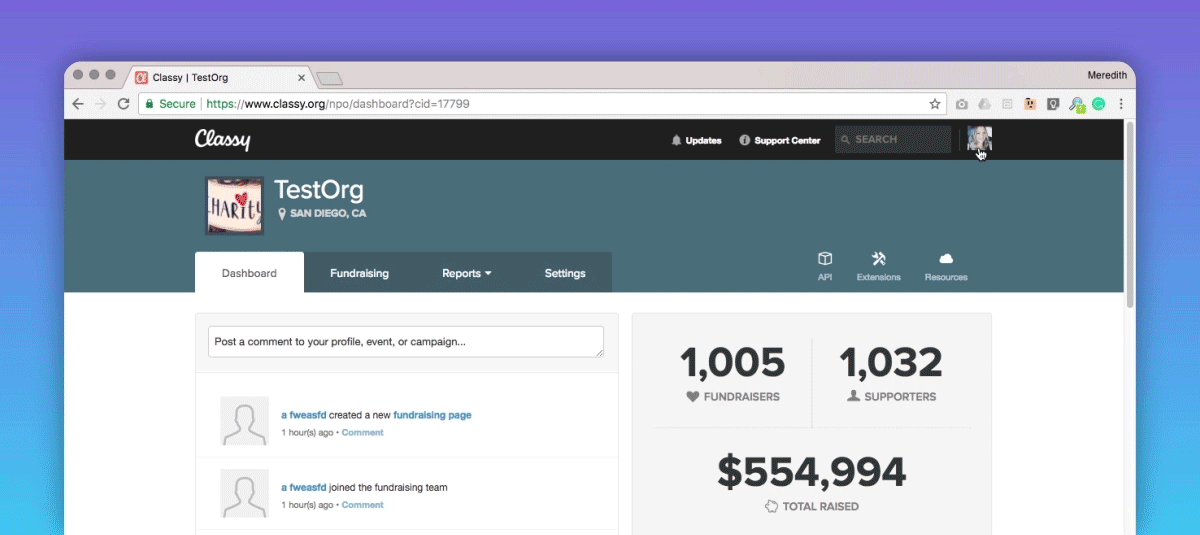 In a nutshell, the Classy Manager optimizes the way our clients access, evaluate, and control their fundraising efforts. All core functionality that you know and love is still there, there are simply new feature upgrades and additions that complement the way clients use the product and fill gaps.
When the Classy platform was created in 2011, our focus was on donor experience and campaign creation. Our fundraising suite has evolved with the industry and we have always been confident in the high-quality experience we deliver to organizations that fundraise on Classy, as well as their constituents. However, as Product Manager Shanna Birky says, "There is no such thing as done—our clients evolve and our product should as well." It was time to take the way our clients manage their fundraising efforts to the next level.
In order to stay true to Classy's mission of empowering and mobilizing the world for good by creating the best online fundraising platform, we must "seek negative feedback, particularly from friends" or in our case, from you—our clients.
How Did We Approach This Update?
The product team spent a great deal of time researching to uncover what our clients want today, as well as features and solutions that they may not yet know they want. Shanna summarizes their approach:
"We wanted to create a larger strategy around the manager, one that solves for today's pain as well as future pain. After understanding the problems our clients and prospects were facing, we created a goal and strategy. Once that was defined we started to tackle the various management problems our clients were facing inside and outside of the product. An example of this: We first looked at how our current customers were managing their efforts and we often found they were taking way too many steps to do a single task.
The product team used the following tactics to accomplish this:
Conduct one-on-one client interviews
Listen in on sales calls to understand the pain points of future customers
Create a feedback forum for beta users
Analyze trends and feedback
Identify feature gaps
Conduct in-product surveys
After the release of Classy Manager beta in December 2017, the team implemented a third-party service to monitor user behavior. Once enough data was collected the product team analyzed the results and honed in on what it would look like to modify or update specific product features. The majority of the feedback and requests led back to one main area: improving the way that organizations manage their fundraising.
"We found that users were using the activity wall for communication, but that other aspects of the 'dashboard' fell short. We realized that their using the feed as a communication tool was a huge opportunity for us to plus one a current feature to improve efficiency and overall impact.
Since the dashboard was automatically the first tab you see upon logging in, this insight alone was a great indicator that our customers were ready for an updated version of Classy.
How Does This Affect Classy Clients?
Classy Manager offers customers a simplified navigation, intuitive design, product customizations, and a batch of new features that have all been created to optimize the way our clients access, evaluate, and control their fundraising efforts. Every update decision was rooted in user behavior and customer feedback, ensuring that Classy Manager creates a more streamlined user experience.
Beyond an exceptional user experience, the added features will also enhance your nonprofit's ability to make the most of your online fundraising. For real-time information on product updates, check the Classy Manager support page.
Next, you can read the following post for details on Classy Manager features and functionalities that have been rolled out and how you can use them to improve the way you engage donors.
Subscribe to the Classy Blog
Get the latest fundraising tips, trends, and ideas in your inbox.
Thank you for subscribing
You signed up for emails from Classy